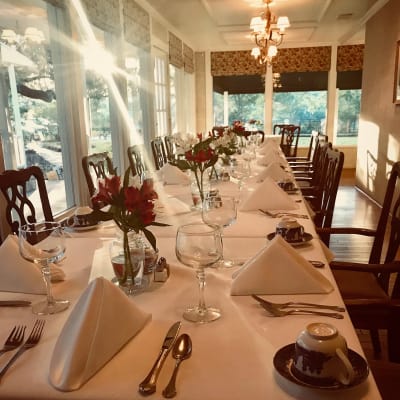 Dining At The Inn
Start your day with rich Columbian coffee, fresh-squeezed orange juice and sweet delicious fruit.

Then, enjoy fresh-from-the-oven pastries or muffins and a main course that may be anything from eggs Benedict to Belgian Waffles with a warm Peach Compote and fresh Whipped Cream.
Dinner is equally impressive. No matter what your taste, you'll fall in love with the exquisite, four-course gourmet dinner at the Inn On The River. Each month we select a special night to host this amazing dinner experience.
A typical dinner might include: Cajon Shrimp on Baked Grits with a spicy Cream Sauce, One of the Inn's Specialty Salads, Beef Tenderloin with Cabernet Reduction, Fresh Seasonal Vegetables, Homemade Bread, and Crème brûlée with Fresh Berries.
Although the Inn does not serve alcohol, you are more than welcome to bring your own bottle of wine or beverage of choice to compliment your dinner.
Come join us for a marvelous candlelit dinner service here at Inn On The River! Call or email to make your reservations today! 254-897-2929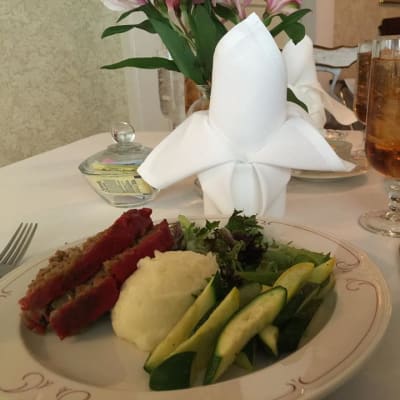 Recipe of the Month
Dorothy's Meat Loaf
Step 1
2 lbs ground chuck
4 Eggs, slightly beaten
2 (14 oz.) cans Hunts petite diced tomatoes
2 onions, chopped
2 green peppers, chopped
2 tsp. salt
2 tsp. pepper
1 tsp. sugar
4 tbsp. Worcestershire sauce
Step 2
1 cup cracker crumbs (more or less)
Step 3
2 (small) cans tomato sauce
Place meat in a large bowl. Add next 8 ingredients and mix gently with hands. Gradually add crumbs and test for togetherness, add more crumbs if needed. Divide in half and take one piece in both hands and shape into a loaf. Place in a 9x13 pan side by side or make one large loaf, (I like to make 2). Bake uncovered in moderate oven 350-375 for approx. 45 minutes until set good. Remove from oven and reduce heat a little. Pour the tomato sauce over the top of meat and cook approx. 45 more minutes or until it gets good and brown and splits a little, (that's okay).
Dorothy had been an Innkeeper at the Inn for 12 years. She lost her battle with ovarian cancer February 1, 2011. She continued to keep a positive attitude up to the very end of her life. Dorothy was a friend to everyone and was always quick to make all our guests feel welcome and special…..She was loved by all and will be missed by everyone that had the opportunity to know her.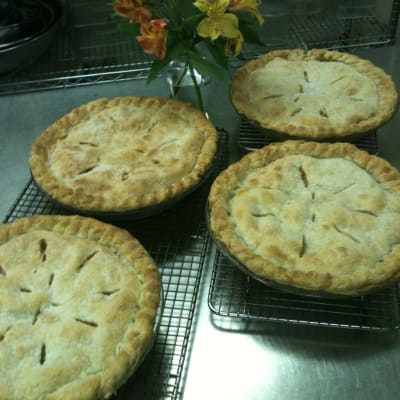 Previous Recipes
Inn On The River's Old Fashioned Apple Pie
4 pounds apples (Granny Smith are the best)
2/3 cup granulated sugar
2 tablespoons fresh lemon juice
6 tablespoons unsalted butter
2 tablespoons all-purpose flour
1 teaspoon ground cinnamon
1/4 teaspoon salt
Peel and core the apples; slice 1/4 inch thick. Transfer to a bowl and toss with the granulated sugar and lemon juice. Melt 4 tablespoons butter in a large skillet over medium-high heat. Add the apples and cook, stirring occasionally, until softened, 12 to 15 minutes. Add the flour, cinnamon and salt and stir until the juices thicken, about 2 minutes. Remove from the heat and let cool completely. (The filling can be made up to 2 days ahead; cover and refrigerate.)
Classic Pie Dough
2 cups all-purpose flour
1 ½ teaspoons kosher salt
8 tablespoons butter
1 ½ tablespoons lard
¾ tablespoon sugar
6 tablespoons chilled water
Sift the flour into a large bowl. Cut butter into small cubes, add to flour, and coat each butter cube. Add sugar, salt and lard. Place mixture into food processor and process until butter has broken into small pieces. Return to bowl, add chilled water and quickly moisten flour mixture. You should be able to press into a solid mass. Wrap in plastic film and refrigerate about an hour.
Divide dough into two parts. Roll out one part of dough and place into a 9-inch pie plate. Add the cooled filling and dot with the remaining 2 tablespoons butter.
Roll out the remaining dough and lay over the filling and press the two crusts together around the edges. Fold the overhanging dough under itself and crimp with your fingers, Beat one large egg and brush the top of crust. Sprinkle with coarse sugar. Cut a few slits in the top crust to let steam escape.
Put a baking sheet on the bottom oven rack and preheat to 425 degrees for at least 30 minutes. Put the pie directly on the hot baking sheet and reduce the oven temperature to 375 degrees, bake until the pie is golden and filling is bubbly, 1 hour to 1 hour, 10 minutes, rotating the pie as needed. (Cover the edges with foil if they are browning too quickly.) Transfer to a rack and let cool.
---
Poupon Salmon Cakes
2 - 6 ounce salmon filets
1/2 green bell pepper, diced
1/2 red bell pepper, diced
1/2 small onion, diced
1 rib of celery, diced
1 tablespoon fresh lemon juice
1/2 cup mayonnaise
2 tablespoons poupon mustard
1/4 teaspoon cayenne pepper
1/4 teaspoon white pepper
1/4 teaspoon black pepper
1/4 teaspoon salt
1 cup saltine crackers, crushed
bread crumbs
canola oil
Mix all of the ingredients except for bread crumbs and canola oil. Shape mixture into small cakes and cover with bread crumbs. Heat enough oil to cover the bottom of a frying pan. Pan sear salmon cakes until brown on both sides.
---
Crème Brulee
2 cups heavy cream
2 whole eggs
2 cups half & half
2 cups sugar
8 egg yolks
1 tsp vanilla
Heat heavy cream and half & half until steaming. Beat egg yolks and whole eggs with sugar and vanilla. Slowly add hot cream mixture to eggs, whisking continuously. Strain the custard mixture and portion into half-cup custard dishes placed in a baking dish or casserole. Add hot water to surround custard dishes. Bake at 350 degrees. Bake until custard is just set, about 30 to 40 minutes. Remove from oven and transfer custard cups to a tray to chill in refrigerator.
Yield: 12 - 1/2 cup servings
Recipe Note: To Brulee the custard, sprinkle a heaping teaspoon of granulated sugar on enjoy custard and run a lit blow torch over the sugar; the sugar will start to melt and then caramelize (or Brulee...to burn).
---
Roasted Red Bell Pepper Soup
1 can (28 oz.) Roasted Bell Peppers (juice & all
1 Med. Onion, Chopped
Chicken Stock or Broth
2 Tbsp. Chicken Base
Dash White Pepper
Dash Cayenne Pepper 1 Qt. Heavy Cream
Add peppers and chopped onion to pot. Barely cover with chicken stock. Add chicken base, white pepper, cayenne pepper and boil about 15 minutes or until tender. Let cool. Puree in a blender until fairly smooth. Return to pot and add cream and bring to a boil. Garnish with a dollop of sour cream.
Yield: 12 – 8 oz. servings
---
Lemon Mousse Cheesecake
3 (8-oz.) Packages Cream Cheese, Softened 2 c. Whipped Cream
1 1/4 c. Sugar 1 1/2 tsp. Vanilla
1 Envelope Plain Gelation, Plus 1/4 c. Zest From 1 Lemon Lemonade Concentrate
Drop or Two of Yellow Food Coloring
Beat cream cheese until light and fluffy. Gradually add sugar. In a small bowl mix gelatin and lemonade concentrate together and let stand 5 minutes. Heat gelatin mixture in microwave for 15-20 seconds, until it dissolves. If it gets too hot, allow it to cool before adding it to the cream cheese mixture. Slowly pour gelatin mixture into cream cheese with mixer running. Add lemon zest and food coloring to mixture. Fold in whipped cream. Spoon mixture into baked and cooled cheesecake crust. See recipe below.
Chill 2 1/2 - 3 hours before serving
Basic Crust for Cheesecake
1 1/2 c. Vanilla Wafers, Crushed 2 Tbsp. Sugar
3-4 Tbsp. Butter
Preheat oven to 350. Combine all the ingredients in a food processor. If mixture feels too dry, add 1 tbsp. more of butter. Press into springform pan and bake for 15 minutes.
Recipe Note: You can us any type of cookies for the recipe
---
Creamy Yellow Squash Soup
1/4 pound lean bacon, diced 1 large onion, chopped
2 cloves garlic, minced 8 large yellow squash, sliced
2 large zucchini, sliced 8 cups chicken broth
5 tsps. comino 1 1/2 tsps. oregano
4 cups evaporated milk salt and pepper to taste
Garnish: grated cheddar cheese, chopped green onions and pimento strips
In a large stock pot brown diced bacon. Discard all but 2 tablespoons of bacon grease. Add onion and saute until transparent. Add garlic. Add yellow squash, zucchini, chicken broth, comino and oregano. Bring to a boil, reduce heat and simmer, covered for about 10 minutes. Add evaporated milk and heat through. Using a potato masher, coarsely mash squash. Taste for salt and pepper. Garnish with cheddar cheese, chopped green onion and pimento strips.
Serves 16
---
Caramel Sauce
1 1/2 lb. butter
1/2 qt. heavy cream
3 lb. brown sugar
Cook sugar and butter till think and sugar is dissolved. Then gradually add the cream.
Yield 2 quarts
This is great over vanilla ice cream and sprinkled with crushed pralines. We buy our pralines at Chachi's Mexican Restaurant here in Glen Rose. We use 1 praline for 2 servings. The sauce will keep in refrigerator for up to three weeks.

---
Shrimp Vera Cruzana
2lbs shrimp, peeled & deveined
salt (to taste)
2 c. fresh tomatoes, diced
sprinkle, fresh lime juice
1 c. ketchup (to taste)
1 T. tabasco or favorite hot sauce
1 c. red onion, diced
1 avocado (for garnish)
4 fresh jalapenos, diced with seed (for hot)
1 lime (for garnish)
1 bunch cilantro ( split, use half for garnish)
Boil shrimp and let chill. Mix all ingredients together except for shrimp. Dice shrimp and add to mixture. Refrigerate until serving. Garnish with avocado slices, lime wedges and cilantro leaves. Avocados can all be chunked and mixed with the ingredients. Traditionally this is served with saltine crackers.
Serves 8-10
You can serve in one large bowl or make individual servings in margarita or parfait glasses.
---
Lemon Caper Sauce
1Tbsp onion, (finely chopped) 1 Tbsp dried tarragon
2 1/2 cups chicken stock 2 1/2 cups white wine
juice and zest of 1 lemon 1 bay leaf
dash of white pepper dash of cayenne pepper
3 Tbsp capers 1 lemon cut into segments
1/2 cup heavy cream
In large sauce pan add all ingredients except for heavy cream. Cook over medium heat until reduced to one cup. Remove bay leaf and add heavy cream. Cook until sauce is thick.
This sauce is delicious over salmon or orange roughy.
---
Peppered Bacon Twist
¼ cup packed brown sugar
1 tsp. cracked black pepper
1 sheet puff pasty
1 pkg. (2.1 oz) thick cut bacon – cook until almost done
Preheat oven to 375. Mix sugar and pepper in shallow dish; set aside.
Cut puff pastry into 12 strips. Top each strip with a slice of bacon; dip in sugar mixture turning to evenly coat both sides. Twist strips slightly; place on a greased baking sheet.
Bake 11 to 13minutes or until lightly browned.
---
Anna's Southwest Corn Dip
2 Cans Mexican Corn (drained)
4 oz. can chopped green chilies
About 4 oz. of chopped jalapenos (not fresh)
3 chopped green onions
1 normal size of shredded sharp cheddar cheese
1 cup of mayonnaise (light is fine)
1 cup of sour cream
Mixed all ingredients together in medium size bowl. Chill until ready to serve.
Chef's Note: Goes great with corn chips
---
Mama Otte's Banana Nut Bread
3 c. sugar
1 c. shortening
4 eggs
2 tsp. vanilla
1/2 tsp. salt
1 1/2 c. buttermilk
2 tsp. baking soda
4 c. sifted flour
3 large ripe bananas, mashed
1 1/2 c. chopped nuts
Cream sugar and shortening. Add eggs (well beaten). Add vanilla and salt. Combine baking soda and buttermilk. Then alternate buttermilk with flour into the creamed mixture. Last, add bananas and nuts. Bake in 2 pans ( a well greased tube pan and an 8 inch loaf pan) at 300 degrees for 2 hours.
Yield: 1 10-inch cake and 1 8-inch laft.
Recipe Note: This was the owner of the Inn's mother's banana nut bread recipe, and it's yummy! I think it is best sliced very thin and served with a fresh cup of coffee.